Early inspirations
It's important for me to keep an eye on the latest emerging trends and styles, both nationally and globally, but the early innovators and craftsmen never fail to inspire. Some of my early design inspirations include:
Gerrit Rietveld
1888-1964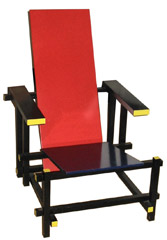 Dutch born Gerrit Rietveld was principally concerned with structure and form. A furniture designer and architect and one of the principal members of the Dutch artistic movement called De Stijl. Most famous for his Red and Blue Chair (as pictured) and the Rietveld Schröder House.
Rietveld later became associated with a more functionalist style of architecture known as Nieuwe Zakelijkheid. The same year he joined the Congrès Internationaux d'Architecture Moderne. He designed the "Zig-Zag" chair in 1934 and started the design of the Van Gogh Museum in Amsterdam, which was finished after his death.
Find out more about Gerrit Rietveld here and here.
Carlo Mollino
1905-1973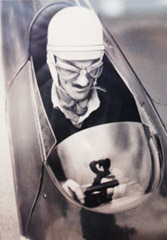 An Italian architect and designer, with a broadly diverse career. As well as designing furniture and interiors, he turned his hand and eye to fashion, theater and film sets, photography, writing, skiing and even designed the 'bisiluro' racecar which he raced in the 1954 LeMans.
He once said "Everything is permissible as long as it is fantastic." and it was reflected throughout his body of work. Mollino's architecture and furniture are famous for their ability to enable occupants to manipulate volumes at a whim.
View some of Carlo Mollino's work here or read some more about him. A book is also available from Phaidon.
Latest style